HARD DRIVE DESTRUCTION IN BERLIN
As is the case with document destruction, you must also comply with data protection regulations for hard drive destruction in Berlin.
For data protection-compliant destruction, the physical shredding of hard drives is the safest way to protect your data. Thanks to our shredding facility, we are able to destroy hard drives up to protection class 3 security level H-5 of DIN 66399.
The shredded material is then recycled to sustainably protect the environment. Following the successful destruction of hard drives, you will receive a certificate from us confirming that your data media have been disposed of in accordance with data protection regulations.
Important to know:
Your Haberling hard drive destruction service is secure, affordable and fast.

Why is hard drive destruction important?
Hard drive destruction is a sensitive issue. This is because there are large amounts of confidential and important information on your company's hard drives. Simply deleting the data is not enough, because it can often be recovered. Even formatting a hard drive will not offer you absolute security.
To be really sure that the data on your hard drives does not fall into unauthorised hands, you require professional assistance. With Haberling you are always on the safe side! We offer you complete and comprehensive advice on hard drive destruction in Berlin and Germany. Do not hesitate to contact us!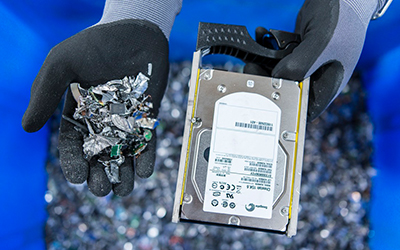 ---
Security for your data
We guarantee secure hard drive destruction starting with the transport of your data. For this purpose we collect your hard drives in special security containers out of aluminium. These are available in various sizes to meet your requirements Of course, these containers are lockable, so that it is no longer possible to remove the data after they have been inserted.
We collect the filled containers by special vehicles and take them straight to the security area of our company premises. This area is not only monitored by cameras but also protected by entry and access controls. We shred and destroy your hard drives in our state-of-the-art shredding facility. After completion of your order, you will receive a certificate you can use to prove that your hard drives have been destroyed in compliance with data protection regulations.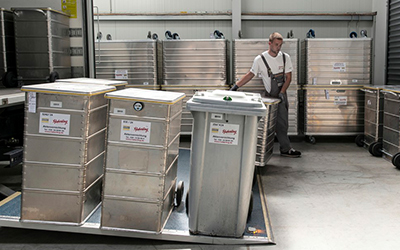 ---
Secure destruction of your hard drives - with a certificate
Haberling always delivers the best quality, which you can rely on. The professional and secure destruction of hard drives is technically complex, because the specifications of DIN 66399 need to be observed for the process.
As proof that we meet these specifications, Haberling is a certified specialist disposal company.
See for yourself! Haberling certificates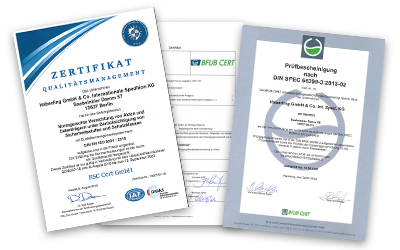 ---
Statutory retention periods for hard drive destruction
The German Commercial Code (section 257 HGB) and the German Fiscal Code (section 147 AO) stipulate how long commercial documents must be kept. The same retention periods apply to data stored on hard drives as to records and documents on paper. Digital data must also be archived for specified periods of time.
The storage medium is irrelevant for these retention periods. An invoice, for example, must always be retained for the same period of time - be it on paper or digital. The retention periods for documents usually have a term of 6 or 10 years.
Important to know: It is mandatory to also archive digital data electronically! Printing data on paper and storing it in ring binders is not permitted. You must retain the original digital data. It is your responsibility to take the appropriate technical precautions for this.
If personal data is stored on your hard drives, you must destroy it in compliance with the requirements of the General Data Protection Regulation. The GDPR also applies to digital data. The physical shredding of hard drives is the safest way to permanently erase your data and protect it against unauthorised access.
For more information, you can download our document here: Haberling Statutory Retention Periods
---
Simply order your hard drive destruction online now!
---
Here you will find further helpful information:
request form
Callbak service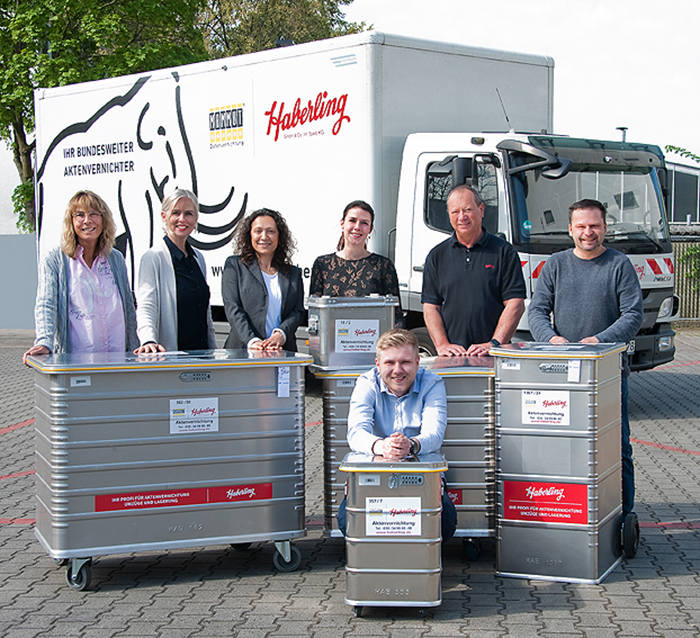 Your contact
HABERLING TEAM
Document- and data carrier destruction
---
in cooperation with