ARE YOU INTENDING TO RELOCATE
YOUR COMPANY IN BERLIN?
Haberling has been the partner for professional relocations in Berlin since 1907.
Company relocations are often complex and time-sensitive. Established structures of a location must be relocated in a safe and efficient way. This is true for both individual workplaces and the move of the entire company. At the same time, a company wants to be up and running again as soon as possible after moving.

For over 100 years, we have managed the relocation of Berlin-based businesses. With the experience garnered in numerous relocation projects, we are familiar with all major and minor challenges of the venture. Please do not hesitate to contact us for advice and, above all, for active support with your move. Arrange for a personal consultation.


REQUEST A QUOTE FOR YOUR COMPANY RELOCATION
---
With our weekend service, you avoid downtimes.
We also do company relocations on weekends to keep downtimes for you to a minimum. We would be glad to provide active support with all the preparations.
As an all-around service provider for company relocations, we supply expert planning and diligent implementation all from a single source.
This will ensure that the relocation of your company in Berlin is done both speedily and efficiently!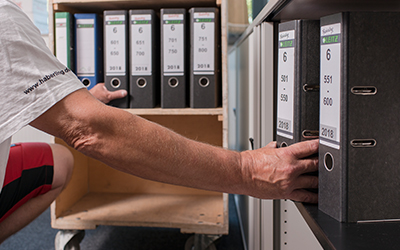 ---
Your all-around service provider for company relocations
in Berlin
We stand for meticulously prepared and efficiently executed relocations. Our modular range of services can be flexibly geared to your individual requirements. Since we accompany you throughout the entire process, we identify problems early on and can respond to changing requirements or situations.
Before we start advising you and planning your company removal, we will arrange an on-site meeting with you. We inspect the conditions at your site, ascertain the volume to be moved and speak to you about your specifications and wishes.
Our services for the smooth relocation of your company:
+ Consultancy and determination of volume on site or optionally online
+ Preparation for a customized relocation scheme with custom-tailored check lists
+ Transparent budget determination
+ Well-thought-out planning and preparation for your relocation project
+ Implementation of your company relocation according to your needs while taking into
account specified time windows
+ Documentation of all modalities for complex company moves

Our reliable team will take care of setting up everything in the room as well as clearing out everything, packing and assembling, safe and secure transport while guaranteeing a speedy and on-schedule handling of your company move. On request, we also offer storage, spatial planning, inventory of your legacy furniture, disposal, the destruction of files and hard disks according to DIN 66399, IT services (IT relocation and cable management) as well as the final cleaning.
You can sit back and relax because, with Haberling Berlin, your company move is in experienced hands.

---
Safe and clean relocation
Our experienced relocation team is prepared for every situation. Equipped with a state-of-the-art fleet, we ensure a safe and environmentally friendly move in Berlin.
Safe
With our air-suspended, GPS-monitored vehicles, equipped with heatable loading platforms and lockable transport systems that can be rolled, if needed, we get even sensitive company equipment safely to its destination. The continuous retrofitting of safety assistants is a matter of course for us.
Our employees take scrupulous care for the safe transport of your files and company PCs. The attentive and skilled team manages literally everything to make your company relocation in Berlin a successful project.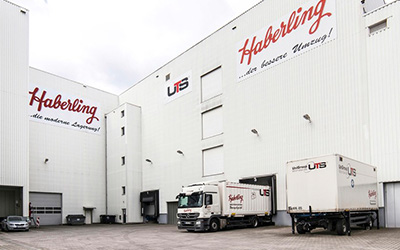 ---
Clean
We care about the environment. We care for Berlin. And these are not just empty words!
90% of our fleet consists of low-emission EURO 6 and electric vehicles. As a specialist waste disposal company within the meaning of Section 56 of the German Closed Substance Cycle and Waste Management Act, we are also experts in the disposal of company equipment that's no longer needed. With our in-house plant, we produce approx. 30 MWh of solar energy. And we use recyclable packaging materials.


---
Company relocations with special challenges
In over 100 years, we have garnered experience in a broad range of issues concerning company moves in Berlin.
We have been confronted with every conceivable situation and were thus able to gain a great deal of specialist knowledge.
Thus Haberling is your specialist and first go-to address in Berlin for the transport of server landscapes, libraries, laboratory relocations, high-tech transports and machine transports.
Are you planning a special move? Please do not hesitate to contact us! We really consider every last detail when it comes to relocations!


---
Machine & special transports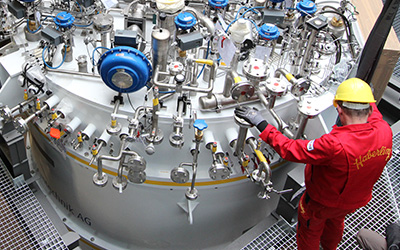 Where others just give up, we already did the job. Special moves such as laboratory relocation, high-tech and machine transports pose no problem to us.


Packaging material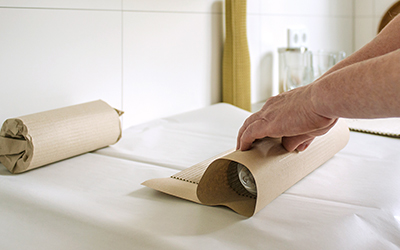 Perfectly protected from location A to location B. We have a wide range of suitable packaging materials to ensure that your relocation does not leave behind unwanted marks.
---
File destruction & waste disposal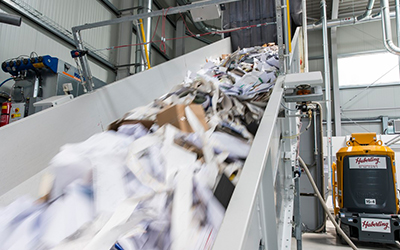 A move is the best time to get rid of some dead weight. We offer professional file destruction and bulk waste disposal.


---
Storage/container storage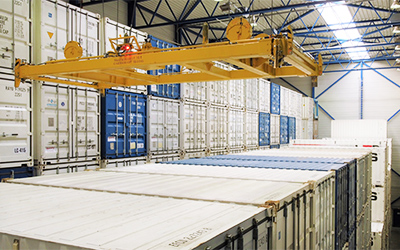 With matching possibilities for storage, we help you with the temporary or long-term storage of your furniture, files, machines and other goods.


---
Berliners know who to trust with their corporate relocation.
"Absolutely fantastic. The planning was simple and the implementation even better. Competent and very friendly staff. The move was very quick and easy. It is always a pleasure. Thanks guys!"
Jenny Tank
"Great removal company. Everything properly packaged and safely transported. Great padded boxes for TV sets."
Johanna W.
"Expert moving company."
Christian Lauterbach
---
FAQ – Frequently asked questions
The cost of a company removal depends on various factors, such as the amount of furniture, the distance between the removal locations, available lifts, desired assembly work, etc. We are happy to advise you on the various options!
Since a company removal requires careful planning, we recommend announcing or planning the move as early as possible. So as soon as you know that you want or need to move, it is best to contact us. We will then plan the next steps together with you.
The duration of a company removal depends on the size and complexity. For example, if large server landscapes are to be moved or if a special transport is required, this can "slow down" the removal. We will draw up a schedule for you and inform you immediately if there are any delays.
Our removal advisors will be happy to agree the required number with you or determine this in the course of an inspection of your removal goods. The boxes and other packing materials can either be delivered by us or you can collect them yourself.
You can decide that yourself! We would be happy to take care of packing and unpacking for you, but if you prefer to do it yourself, this is of course also possible. We are also happy to provide you with professional packaging material, if desired.
Our qualified personnel are familiar with the handling of almost all common furniture systems. We would be pleased to take over the disassembly and assembly of your furniture. You have new furniture that needs to be assembled? No problem, just contact us.
We will gladly take over any packing work for you. No matter whether glass, porcelain or other removal goods, talk to us.
We take care of the official approval and have no stopping signs put up. Depending on the season and district, the road traffic authority needs about 2-3 weeks in advance for the granting of an official permit. Only after this time is the installation possible.
We are happy to offer you the cabling and wiring as part of our moving services through our long-standing partner companies.
Where to put the many files, records or documents? We have the solution - file storage with us! We are also happy to store leftover furniture or technical equipment safely on our premises.
There is furniture left over and disposal is out of the question! We offer the possibility to store your furniture and objects on 12.000 sqm storage area and with almost 300 storage containers. Here we even offer the digitalization of your stored goods and steles are available to you in an online shop.
Of course, as these are business expenses, they reduce the profit and therefore the tax.
You are in safe hands with us. Your removal goods are insured with 620 € per cubic meter of removal volume over the legal basic liability. We would be happy to advise you on this and, if necessary, offer you transport insurance for the amount you define.
Yes, as a specialist disposal company we destroy documents and data carriers in accordance with DIN 66399 in our own large certified shredder plant. For transport and destruction, we use lockable security containers in various sizes.
As a specialist disposal company, we are also happy to take over the professional disposal of old furniture.
Request form
Callback service
Online visit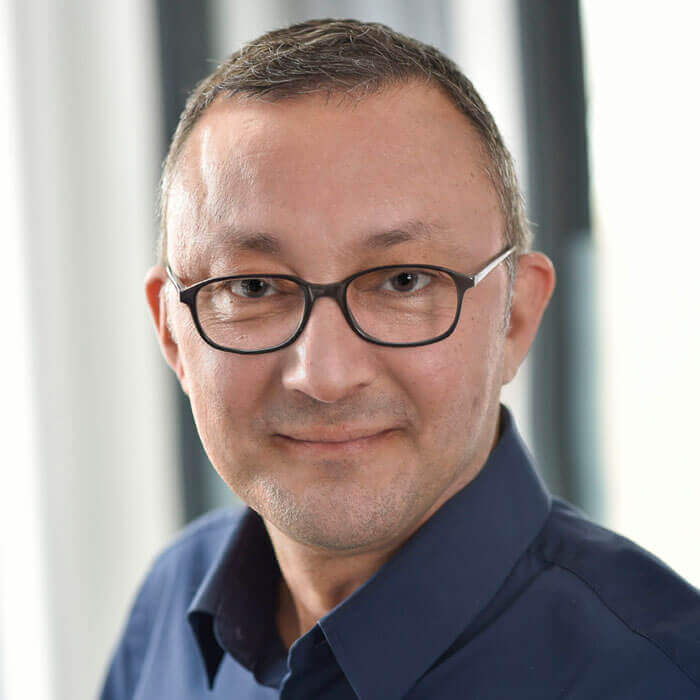 Your contact
CARMELO PAGLIARA
Removal- and Project Management
---