High-Tech-Transport Berlin
Special care must be taken with the initial installation or relocation of high-tech objects. Whether medical facilities, computer centres or cash dispensers: Haberling fully meets your requirements for the logistics of sensitive and high-quality products.
Our logistics experts obtain a professional overview on site and coordinate relevant factors in detail. We then define the exact scope of services for your individual logistics concept - from transport organisation, temporary and permanent storage, order picking and pre-assembly to delivery and services such as assembly, disassembly, commissioning or return and reverse logistics.
We are looking forward to hearing from you
---
Our employees understand what really matters when it comes to ensuring a punctual, safe and damage-free delivery of your products. Our drivers receive regular training on the topics of transporting valuable and sensitive goods. Clear and proven procedures and ensure the greatest possible protection and maximum safety.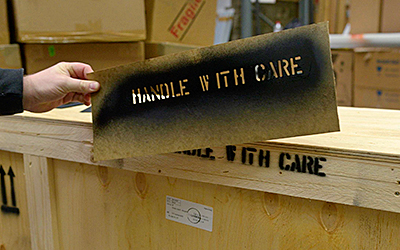 ---
Special transport for all needs

For high-quality equipment we use air-suspended box vehicles with special tail lifts. If necessary, we have the appropriate crane technology including any necessary crane pallets with a payload of up to ten tonnes or we build special scaffolding to enable the technology to be brought in through the window, for example.
With high-tech equipment, such as servers, computers or medical devices, professional transport is particularly important, as the equipment must be packed and transported as shock- and vibration-resistant as possible. In order to guarantee this, we offer a wide variety of packaging. We are also happy to take care of the assembly and disassembly of your devices. We will be happy to discuss the details with you.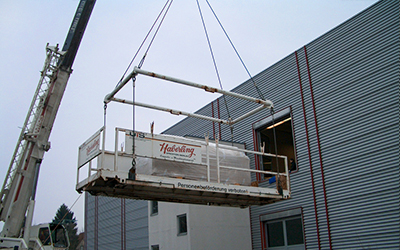 "Qualified transportation"
Christian Lauterbach
---
FAQ – Frequently asked questions
The cost of high-tech transportation depends on various factors, such as localities, volume and distance between the moving locations, etc. We will be happy to advise you on the various options!
Since high-tech transport requires careful planning, we recommend announcing or planning this project as early as possible. Because often it is not only a question of the goods to be transported but also of the local conditions, taking into account traffic engineering measures.
You can decide this individually! We are happy to take over the professional packing for you, but if you prefer to do it yourself, this is of course also possible. Due to our specially equipped vehicle fleet, the degree of packing can often be reduced.