MaChine transportS Berlin
We transport machines of all kinds throughout Germany: from 100 kg to 100 t. For these operations we rely on the most modern transport technology. Whether it's an efficient vehicle fleet, special forklifts, assembly scaffolding or crane baskets: We will find the right solution for you for every type of machine transport. Overseas transports are also part of our everyday business. For this purpose we apply special packaging to the machines. In order to protect them from corrosion and preserve them, the machines are shrink-wrapped with desiccant in PE or aluminium compound foil.
If desired, we can work around the clock, including weekends and holidays, to minimize your production downtime. By the way: We can also store machines for you.
Timing plays an important role, especially for machine transports, and the transport should be handled quickly and efficiently. Thorough planning is essential for this. Thanks to our transport experts and the right technology, this is no problem for us. We help you to ensure that your machines can change locations smoothly and without stress, so that downtime is kept to a minimum.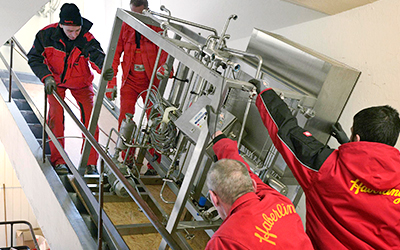 In Berlin-Charlottenburg we have modern, safe and heated areas. On an area of about 12,000 m² we store various machines, furniture, medical equipment, exhibition stands and more. In addition, we have 1,400 pallet spaces available on site. For areas that are not located in the ramp area, we use large freight elevators that can carry a payload of up to 6 tonnes. So please do not hesitate to contact us regarding the storage of your machines!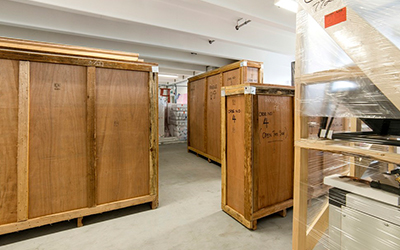 ---
FAQ – Frequently asked questions
The cost of transporting a machine depends on various factors, such as machine size, location, distance and necessary assembly, etc. We will be happy to advise you on the various possibilities!
Yes, machine transport overseas is also one of our services. We would be pleased to advise you on this.
Since machine transport requires careful planning, we recommend that you announce or plan this project as early as possible. Because often it is not only a question of the goods to be transported, but also of the local conditions, taking into account traffic engineering measures.
Yes, in order to protect and preserve them from corrosion, the corresponding systems are shrink-wrapped with desiccant in PE or aluminium compound foil.
Yes, in Berlin-Charlottenburg we have modern, safe and heatable areas at our disposal. We would be happy to advise you on the storage of machines.