SECURITY CONTAINERS FOR YOUR DOCUMENT AND DATA DESTRUCTION
To guarantee the security of your data at all times, we provide you with high-quality security containers out of aluminium for document and data destruction.
We offer you containers in different practical sizes to suit your needs and space requirements. You can conveniently fill all containers via an insertion slot in the lid.
In addition, you can choose between different locking systems:
K series - with a lock and key
I series - with an integrated combination lock
M series - with an integrated shredder head
Of course, we will be pleased to advise you on the choice of the right container for your data destruction needs.
---
---
K series - The classic option
You can simply fill the containers via the insertion slot in the lid. The K series security containers have an integrated locking system. Suitable keys for these containers can be provided on request. This allows you to open the lid if necessary and place entire ring binders in the container where required.
I series - The innovative option
The I series security containers feature a combination lock. You determine the combination of numbers yourself. You can therefore use a separate number combination for each container. This makes them even more secure.
You can fill the containers via the insertion slot in the lid or, if necessary, open the lid with the number combination. This is useful, for example, if you want to dispose of entire ring binders.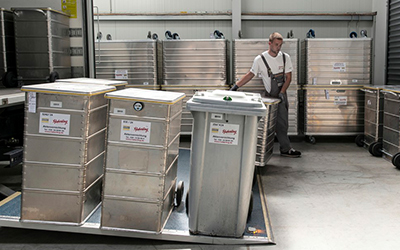 M series - The multifunctional option
Like the other containers, our M series security containers come equipped with an insertion slot in the lid. The container also has an integrated shredding head. Thanks to this mechanism you can shred particularly confidential or secret documents immediately. This allows you to use one container type for different protection classes and security levels of DIN 66399 instead of distributing paper documents among several containers.
A sign on the shredder head informs your employees about the right choice of destruction method.
---
Verified security with a certificate
Haberling delivers quality you can rely on, because we are an officially certified specialist disposal company.
Secure document and data destruction in compliance with DIN 66399 is a technically complex process. In addition to the technical facilities, you need trained staff members who are under a confidentiality obligation. To assure you that your data is in good hands with us, our company naturally has all the necessary certificates. External quality managers regularly inspect our company.
Here is an overview of our certificates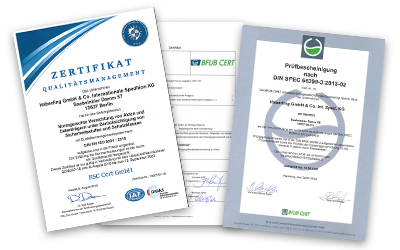 ---
FAQ - Frequently asked questions about our security containers
The containers are really very secure! For the destruction of documents and data media in accordance with DIN 66399, we exclusively use high-quality aluminium security containers, which are available in different sizes depending on the intended use.
You have the choice between different security containers. So you can always choose the right container for your order. The containers differ in size, locking system and other features. We will be happy to advise you on the choice of the right security container for your document and data destruction needs.
Among other factors, the amount and protection requirement of the data to be destroyed are important for this decision. The location where you can place a container is also an essential aspect. Not all containers can be carried up a staircase, for example.
If you are not certain which security containers best meet your needs, we will of course be happy to advise you.
We transport the security containers in GPS-monitored vehicles. In these special vehicles we can correctly stow the containers with your data and take them to the shredding facility. This is a further factor that contributes to the security of your data.
request form
Callback service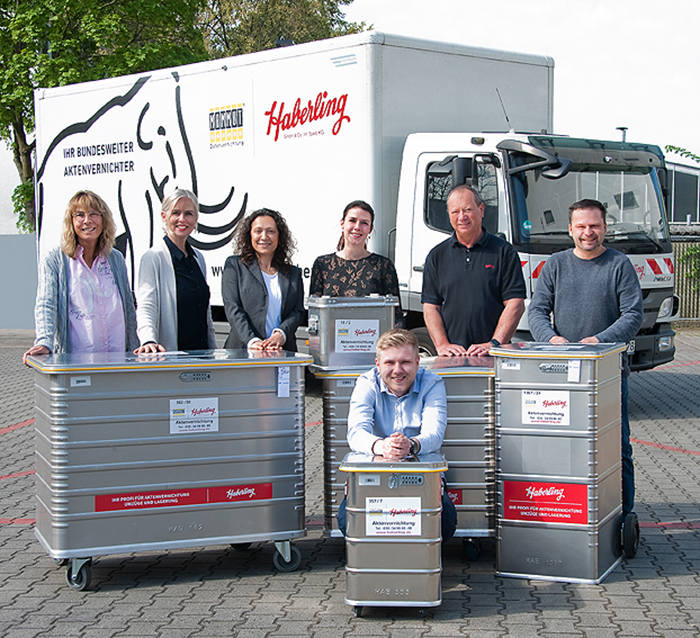 Your contact
HABERLING TEAM
Document- and data carrier destruction
---
in cooperation with