MachinE STORAGE Berlin
Our modern container warehouse for machine storage comprises an area of over 9,000 m³ and offers 280 storage spaces. The warehouse is of course heatable, alarm-secured and video-monitored. In addition, there is a 16-tonne crane track available and thus ensures fast and safe handling. Make use of our flexible and efficient warehouse logistics, which we also offer together with our network.
We can also offer you additional space in Berlin-Charlottenburg. There we store things such as medical technology, exhibition stands, office furniture and also machines on an area of 12,000 m². Of course, these areas are also modern, secure and heatable. In addition to the 12,000 m², 1,400 pallet spaces are also available for you. For some areas that aren't located in the ramp area, we use large freight elevators that can carry a payload of up to 6 tonnes.
Whether it is furniture, office equipment or other valuable items - in a locked container your valuables are stored under the safest possible conditions, since no reloading from the container is possible. Depending on the space required, you can choose between different container sizes: from 10 to 45 m³ everything is possible! It does not matter whether you are looking for a short or long-term container storage in Berlin. Contact us and let us advise you!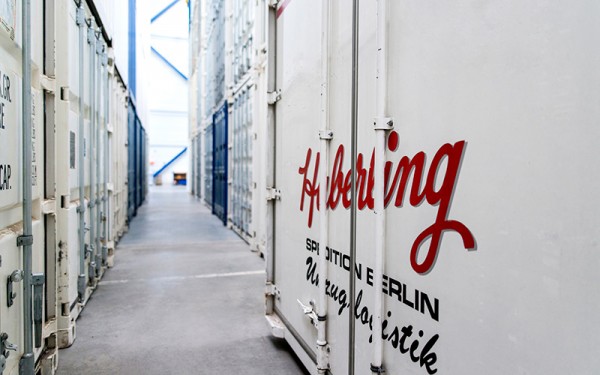 You want to store various goods? We will find the right solution for you! To do this, we first determine the volume of your stored goods and then decide which storage option is best for your needs. All our storage rooms are alarm-secured, video-monitored and therefore offer a high level of security. We would be pleased to advise you on the different storage possibilities. Please do not hesitate to contact us!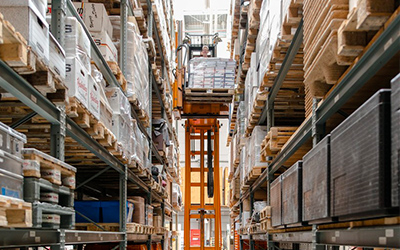 ---
FAQ – Frequently asked questions
There are several factors that are important for machine storage: What and how much should be stored? Over what period of time should it be stored? Are protective measures necessary for the furniture storage? We would be pleased to inform you about the different storage possibilities. We have 12,000 m² available on our modern, safe and heated premises in Berlin-Charlottenburg. Please do not hesitate to contact us!
Your machines are in safe hands with us. They are in our warehouses in Berlin-Charlottenburg. Our premises are also alarm-secured, heated and video-monitored.