DOCUMENT DESTRUCTION IN BERLIN CHARLOTTENBURG, MARZAHN, AND CITYWIDE
Document destruction is an important issue for all companies in Berlin - be it in Charlottenburg, Marzahn, Mitte or Treptow.
You must retain certain records and documents for specified periods of time. Despite advancing digitalisation, the paperless office is still a long way off.
After the expiry of retention periods you are left with lots of full ring binders which you cannot just throw in the normal bin. Firstly, because the documents contain sensitive data of your company and, secondly, because you are obliged by law to destroy all documents containing personal data in compliance with data protection regulations.
With Haberling you have a professional partner at your side. We will take care of your document destruction needs anywhere in Berlin - from Marzahn to Charlottenburg, on the outskirts or in the city centre.
---
Professional document destruction in Berlin Charlottenburg and all other parts of the city
Haberling offers you the following advantages:
Affordable prices

Short response times

Flexible dates

Expertise of a certified specialist disposal company

Compliance with GDPR requirements

Secure document destruction according to DIN 66399

Quality management according to DIN EN ISO 9001:2015
You will automatically receive a destruction protocol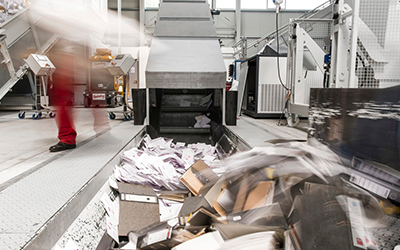 ---
Document destruction made easy
You can either place your order directly in our web shop or contact us using our contact form. Together we will arrange a convenient date for you.
We will come to you with the right security containers, which you can fill.
Do you need time for filling the containers?
We will be happy to come back to collect the full containers.
We transport the security containers in GPS-monitored vehicles straight to the security area of our company premises in Berlin Charlottenburg. We only open the containers and destroy your documents there.
Our state-of-the-art shredding facility mixes the shredded paper and presses it into compact bales. By using this method we increase the security level. Finally, of course, we make the shredded material available to regional paper recycling firms for recycling and sustainable reuse. After completion of your order, you will receive a destruction certificate from us. You can use it to confirm that your company data has been destroyed in compliance with data protection regulations
This keeps costs and effort to a minimum. All you need to do is put your documents into the containers and we will take care of the rest.
---
Security containers
Our special containers are part of our security concept. They ensure that your data is already secure during collection and transport. Locked security containers protect your documents against unauthorised access. You can choose between different sizes to meet your requirements.
Special advantage: You can place entire ring binders into the containers without laboriously having to remove the documents first. This allows you to fill the containers very swiftly.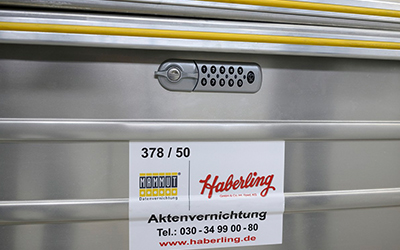 ---
Haberling is a certified specialist disposal company
Destroying documents is a very complex process - both on a technical and logistical level - and requires professional expertise. You can be sure that your data is in good hands with us, as Haberling is an officially certified specialist disposal company.
Using this title is only permitted if you hold certain certificates, which we, of course, have obtained. External quality managers regularly inspect our business to see whether we fulfil all of the requirements at all times.
Here you can find out more about our certificates: Haberling certificates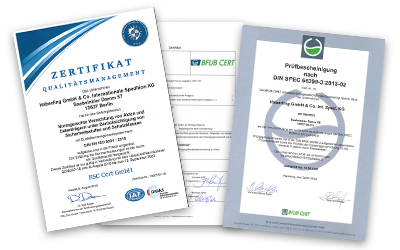 ---
These services are available to you:
For your document destruction between Charlottenburg, Marzahn, Treptow, Reinickendorf and all over Berlin, we offer you various attractive schemes to suit different customer needs:
Good value
This offer is ideal for a quick tidy-up and smaller quantities.
Your advantages:
This offer is great value

It takes just 15 minutes to complete your order
Comfortable
This offer is also for a one-off tidy-up but allows you to take your time. You can fill the containers at your leisure and we will collect them as soon as you are ready.
Your advantages:
You have more time for your document destruction

The security containers are rent-free for 10 days
Periodically
This service is ideal for anyone who already wants to dispose of documents as part of their daily work. You rent security containers according to your needs and set them up in your company. We empty them on a regular basis or on call - just as you need it.
Your advantages:
This stops large amounts of documents from accumulating in the first place

You have maximum flexibility for the collection.
Sustainable
With this offer we take normal recycling a step further. We sort the shredded material from your document destruction according to specific criteria and optimise the recycling options
Your advantages:
Your document destruction is highly sustainable

Optimised recycling of recyclable materials
Self-delivery
You are also welcome to deliver your files to us yourself. This eliminates travel costs and you can be more flexible with your schedule.
Self-delivery is the cheapest option for document destruction in Berlin, especially for customers from the districts of Charlottenburg, Schöneberg, Tiergarten, Wedding, Reinickendorf, Spandau and Wilmersdorf, as we are close to these locations.
Your advantages:
You are more flexible with your schedule.

Self-delivery is the cheapest option for document destruction
After completion of the document destruction process you will automatically receive a certificate. You can use it to confirm that you have fulfilled your obligations under data protection law.
request form
Callback service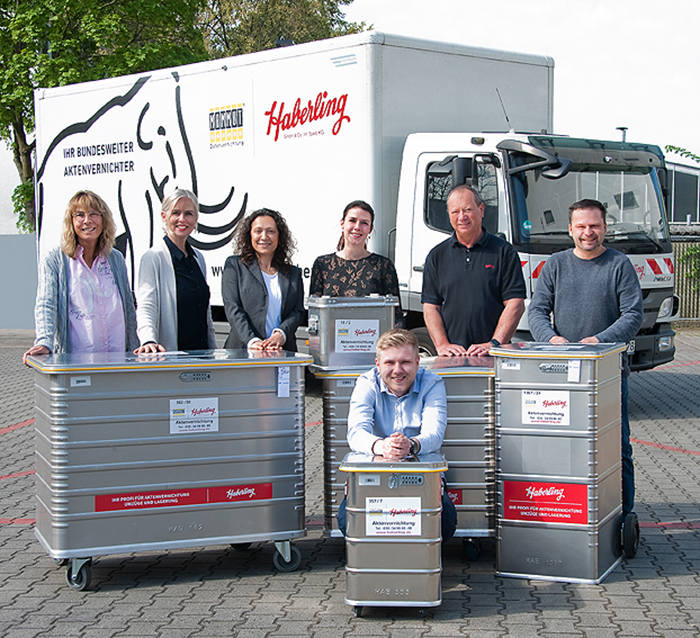 Your contact
HABERLING TEAM
Document- and data carrier destruction
---
in cooperation with