LaborATORY RELOCATION Berlin
Laboratory relocations require a high degree of know-how, preparation, accuracy and attention. This is because extensive equipment, sensitive technology and complex assemblies present a particular challenge. It is good to have a laboratory relocation specialist like Haberling at your side, who has decades of experience in this field and can find the right solution for every transport route.
We are looking forward to hearing from you
---
Planning your laboratory relocation
Before starting a laboratory relocation, it is especially important to prepare, schedule and record in cooperation with our technicians. If necessary, we will consult hazardous goods officers.
We transport refrigerated and hazardous goods together with specialised partner companies. We also have 20 ft refrigerated containers for storage or transport from -40 °C to +25 °C.
For the professional packaging and safe transport of your technical equipment and laboratory contents we use special materials and individual packaging solutions, which are determined during the consultation.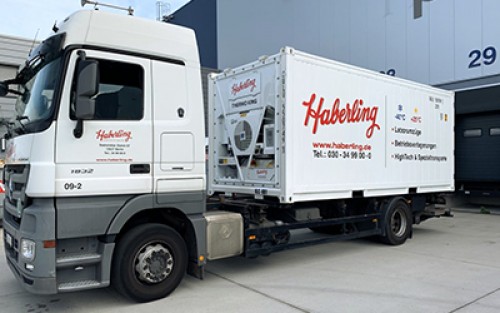 Of course, we document and monitor the entire laboratory relocation without interruption. Thanks to our network of partners, we can also reliably carry out international laboratory relocations. At the same time, we will of course be happy to relocate your administrative and production departments. Let's talk about it!
---
Full-Service from a professional source
We offer everything from one source: Consulting, planning, coordination and control. When transporting a laboratory, nothing should be left to chance. Our relocation managers ensure the perfect procedure for your laboratory move. Since this type of relocation often involves fragile or sensitive goods, special care is required. We will work with you to determine the appropriate procedure and thus ensure that everything runs smoothly.