DATA AND DOCUMENT DESTRUCTION FOR COMPANIES IN POTSDAM
Data protection and the destruction of data and documents are important issues for your company in Potsdam.
Many companies – possibly including yours - are striving for a paperless office in their day-to-day business. The aim is for all data to be stored digitally. However, this does not yet correspond to reality: receipts, correspondence, HR records and other documents are still stored and archived in a paper form in files.
These files take up a lot of space. Your files also represent a security risk because they contain valuable information about your company.
Certain data is particularly sensitive, e.g. personal data, corporate strategies or tax documents. A lot of this data should and/or may not be made public under any circumstances. The latter category includes personal data. The requirement to protect personal data is clearly defined in the General Data Protection Regulation (GDPR).
You absolutely must destroy such sensitive data correctly. Disposing of it via the wastepaper bin is prohibited and can involve severe penalties!
Your security is the best reason for relying on the Haberling professionals when it comes to the destruction of your documents in Potsdam!
Your security is the priority
For the certified destruction of documents in Potsdam in accordance with DIN 66399, we use special security containers, which come in different versions. We have the right size for every intended purpose! Our containers begin at a volume of 70 litres and extend to containers of 38 m3.
All our containers have a slot in the lid. This enables you to collect documents and data securely in the containers.
As well as a choice of size, you also have a choice of different locking systems. Our K-series, for example, is locked with a key, whilst the I-series has an integrated combination lock. You also have the option of using a model from the M-series – these containers have an integrated shredder head.
Of course, we will be happy to give you advice when choosing the right container and regarding the destruction of documents in Potsdam!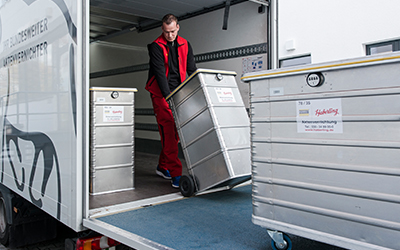 ---
Data protection from beginning to end
When you have filled the security containers, we will load them into a special vehicle and bring them to the secure area of our premises in Berlin-Charlottenburg. That is where our ultra-modern and officially certified destruction plant is located. It is only here that we will unload and open the containers carrying your data. The documents are destroyed according to the most stringent security regulations. After they have been destroyed, you will receive a destruction certificate from us. You can use it to prove that your data has been destroyed in compliance with data protection regulations.
---
Document destruction in Potsdam in accordance with DIN 66399
This destruction plant is not only monitored by cameras but also secured by entry and access controls. This corresponds to the stringent requirements of DIN 66399. Here, we destroy documents and other data media up to protection class 3. After they have been destroyed, the plant swirls the material around and compacts it into balls. We make the balls of shredded paper available for recycling in accordance with the German Closed Substance Cycle and Waste Management Act.
Put your trust in the Haberling professionals when it comes to the destruction of documents in Potsdam! We will carry out your job cheaply, sustainably, securely and thoroughly!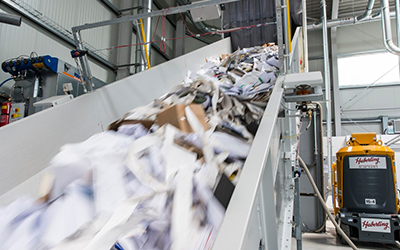 ---
Haberling offers you certified quality
Haberling provides certified quality that you can rely on. Haberling is certified for the standards-compliant destruction of documents and data in compliance with the security levels and protection classes according to DIN SPEC 66399. We also hold an audit certificate in accordance with DIN EN ISO 9001:2015. Therefore, we are your contact for professional document destruction in Potsdam!
You can find out more about our certificates here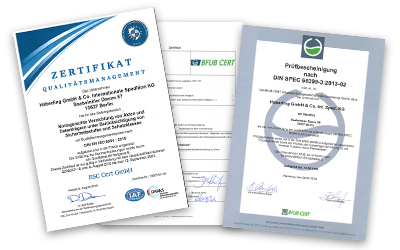 ---
Statutory retention periods for your documents
According to the statutory retention periods, you must store commercially relevant data and documents for specified periods. Which documents have to be stored and for how long is regulated in the German Commercial Code (Section 257 HGB) and in the German Fiscal Code (Section 147 AO). The retention periods usually have a term of 6 or 10 years. Once these periods have expired, you can or must destroy this data. If documents contain personal data, you must destroy them in accordance with the requirements of GDPR or DIN 66399.
In most cases, the professional destruction of documents is the cheapest, fastest and, above all, most secure method.
Here, you can find a document containing the most important retention periods: Haberling-Gesetzliche-Aufbewahrungsfristen
Requestform
Callback service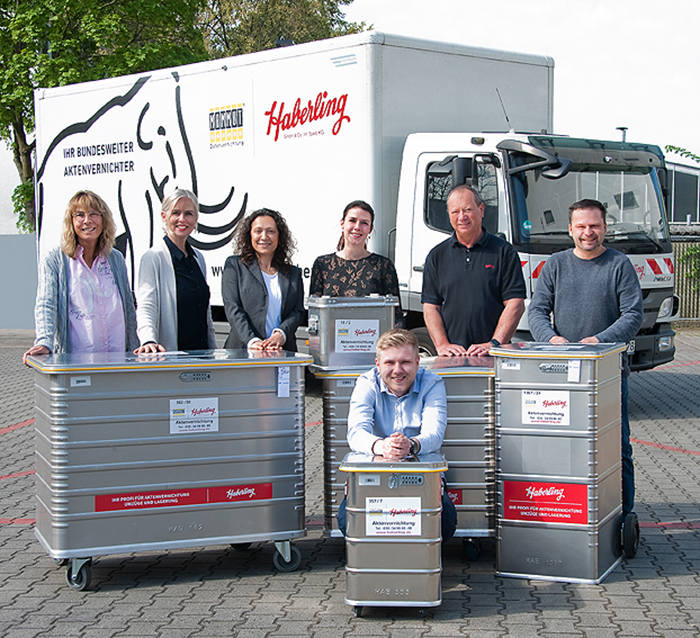 Your contact
HABERLING TEAM
Document- and data carrier destruction
---
In cooperation with