document destruction
For your document destruction or data destruction in Cottbus
A company's day-to-day business regularly generates an array of paper documents – receipts, applications, invoices... and these are just a few examples! The documents contain information that could be of interest to third parties. Therefore, you must act with the utmost caution here! Important data and documents should on no account be simply thrown away, but should be disposed of correctly by a professional. After all, the Data Protection Regulation (DSGVO) must also be observed for the disposal of documents and data. Put your trust in Haberling and leave the destruction of documents in Cottbus to us!
Document destruction in Cottbus
Secure on all levels
We carry out the certified destruction of documents and data in Cottbus in accordance with DIN 66399 and set high security standards even for the transportation of the documents. We offer a variety of special aluminium security containers for this. Which container is used depends on the intended purpose. The smallest security container starts at 70 l, whilst the largest has a volume of 38 m3. All of our security containers have a slot in the lid. This makes it very easy to post in documents and data in compliance with data protection regulations.
Our security containers not only give you a choice of size, but also allow you to choose between various locking systems. Whilst the K-series is locked with a key, the I-series has an integrated combination lock. The M-series has an integrated shredder head. You do not know which container is most suitable for you? No problem! We will be happy to advise you!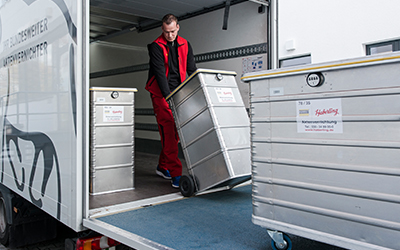 ---
Document destruction in Cottbus
We leave nothing to chance
After the security container has been filled, we load the container into one of our special vehicles and take these to the secure area of our premises in Berlin-Charlottenburg. It is only when it arrives there that the container is opened, in an area that is monitored by cameras and protected against unauthorised access. We then feed the documents and data into our modern and officially approved destruction plant in compliance very strict security safeguards.
The plant then destroys the documents and data in accordance with the stringent requirements of DIN 66399 up to protection class 3. Here, the material is swirled around and compacted into paper balls so that it can then be made available for recycling. This means that we are also optimally complying with the German Closed Substance Cycle and Waste Management Act! When the documents have been destroyed, you will receive a certificate from us, confirming that the documents have been destroyed in compliance with data protection regulations.
Data and document destruction in Cottbus – be on the safe side with Haberling!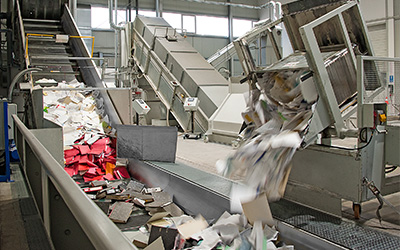 ---
Document destruction in Cottbus
Certified quality
We provide quality you can rely on – and there's even proof! We are certified for the standards-compliant destruction of documents and data in compliance with the security levels and protection classes according to DIN SPEC 66399. We also hold an audit certificate in accordance with DIN EN ISO 9001: 2015. Convincing quality! Contact us for your professional document destruction in Cottbus!
More about quality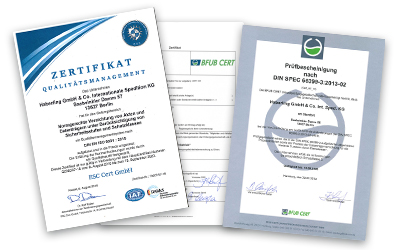 ---
Document destruction in Cottbus
Statutory retention period
There is a statutory retention period for which companies have to store documents. This can be found in the German Commercial Code (Section 257 HGB) and in the German Fiscal Code (Section 147 AO). They specify the length of time for which commercial documents have to be stored. The retention periods vary and can be 6 or 10 years, depending on the document. If you want further information, you can download our document here:
Haberling-Gesetzliche-Aufbewahrungsfristen-2021.pdf
Or send us an enquiry via our contact form
We look forward to your hearing from you!
Requestform
Callback service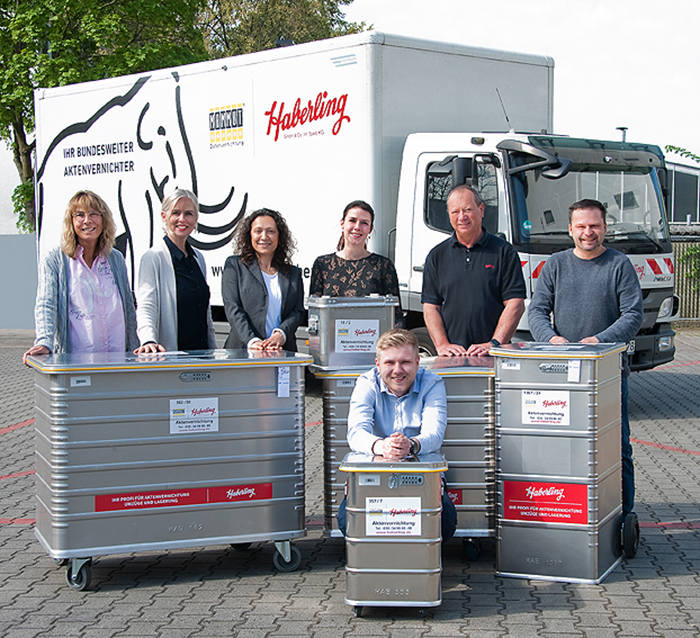 Your contact
HABERLING TEAM
Document- and data carrier destruction
---
In cooperation with